Anger can burn, or anger can illuminate
As a response to the Coronavirus, for the safety of our clients and counselling team, we are offering all our groups and counselling online. We are, for those whose pay has been impacted by COVID-19, reducing our online group fee by 41%. We see hundreds of people each year where anger has played a destructive role. For many of our clients, anger has led them to do things that have damaged their relationships with others and left them feeling awful. Some call because our programs are recognized by the courts, although most arrive for personal development reasons. All who bring motivation, leave powerfully moved, more responsive, intentional, less reactive, and their families more peaceful, happier.
Despite the negative experiences that many people have with anger, we believe that anger can also be constructive and lead to insight. We recognize that it takes a lot of courage to make that first phone call and to walk into the room to seek help. But those who bring motivation, put in the effort, and commit to creating change, experience life-changing results. We have seen it thousands of times! We're grateful for the opportunity to witness such change and to hear the impact not just on our clients, but also on those they care most about. Take charge of what you do with your anger — call, text, or email us today because the time to do something about this is now.
We have six counsellors on staff, and work weekends, so we can usually see you individually, within a week, or less.
Serving clients from Vancouver, Burnaby, Richmond, North Vancouver, Surrey, West Vancouver, Delta, Port Moody, Coquitlam, and more.
Men and women attend our programs because they have realized that their reaction to anger is costing them in their personal and/or professional relationships. After an angry outburst they, and often the people around them, are left feeling confused, embarrassed, frightened, and sometimes even hurt, emotionally and/or physically. Those who attend our courses tend to be those who care so much about those around them that they are willing to take this step.
At Moose Anger Management, founded by Alistair Moes (pronounced 'moose'), anger is not seen as inherently bad. Alistair and his partner Alejandra Proaño have found that anger is far more complex than most people imagine and, in fact, can often lead toward constructive behaviour. Click to read more about what we do. You can contact us at any time if you have questions about our work or any of our programs. Also, follow us on Twitter.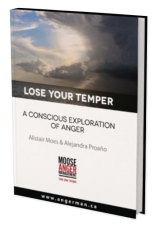 Lose Your Temper: A Conscious Exploration of Anger
This book leads you through the topics that are typically covered in our group and individual anger management programs. A solid foundation of understanding around anger and the emotions is built followed by a wide selection of "tools". These tools have been tried and proven effective by the participants who have attended Moose Anger Management programs.
Facilitate the transformation of anger into growth
Group counselling provides a supportive environment where people are treated with respect and dignity, along with the opportunity to transform anger into maturity and growth. Participants will expand their understanding of themselves and deepen their ability to work with the challenges they face.
Is Your Partner's Angry Behavior Affecting Your Relationship?
The best results we see are when both partners explore how their anger moves within the relationship. This happens when both partners attend groups and do their own work. If you want to support your relationship, join one of our Healing Anger Groups for Women and explore how anger is impacting your relationship from both sides. Our next Healing Anger Group will be March 18 – April 22, 2020.
Individual & Group Counselling
We have a team of counsellors who offer couple, family, and individual counselling for both adult men and women, and teenagers. The individual sessions are flexible and can be more responsive to your specific situation, making time for you to explore your needs, face your challenges, make the most of your resources, and learn new ways of relating to anger, to yourself and to the people in your life.
Our groups offer you the chance of learning alongside others who, like you, care enough to change what they do with their anger. The group also provides a very supportive environment where people are treated with respect and understanding that facilitates the transformation of anger into something constructive.