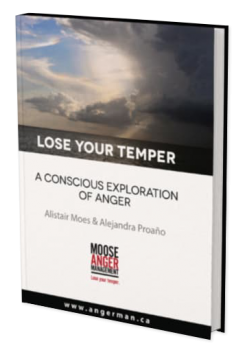 The words of thousands of men and women are reflected in this testament to change. Alistair has spent over 20 years speaking with groups and individuals about anger and how to work with it in a constructive manner. He has documented their thoughts and ideas and aspirations on many topics related to anger management.
This book leads you through the topics that are typically covered in our group and individual anger management programs. A solid foundation of understanding around anger and the emotions is built followed by a wide selection of "tools". These tools have been tried and proven effective by the participants who have attended Moose Anger Management programs.
After reading the book people experience a deeper understanding of their own anger and gain insight into what is behind this powerful emotion. When this insight is connected to a variety of tools, change happens.
Professionals have found this book to be a valuable resource when working with the issue of anger. The exercises are explained in detail including the reasoning behind them. Theory is explored in a manner that brings it to real world usefulness.
We update the book twice a year. So, whenever you purchase it you are up-to-date with the latest material we are working with. For $20 (plus $5.30 shipping in Canada; other countries, please contact us for shipping rates) you get the wisdom garnered through a 22 years of working collaboratively with people interested in changing what happens when anger arises.
It was like you wrote the book about me
This book was so helpful!
It put in writing what I'm actually feeling!
Download a Preview Chapter